You know, I get this question about every 3 to 6 months, so it seems like  a good thing to blog about…  So here's the deal.  Like everything in life, it's a trade off.  When you DON'T check the Block QtRq you want the material blocked to ensure the most accurate availability of items.  When I say that, it means that the material will get locked instantly, so if inventory is going to be consumed, no one else can consume at the same time.  Now the drawback of this is that everyone else will get an error if they attempt to configure the item.  If you check Block QtRq, you open up the item so multiple people can be configuring the item at the same time, but you run the risk of inaccurate availability dates.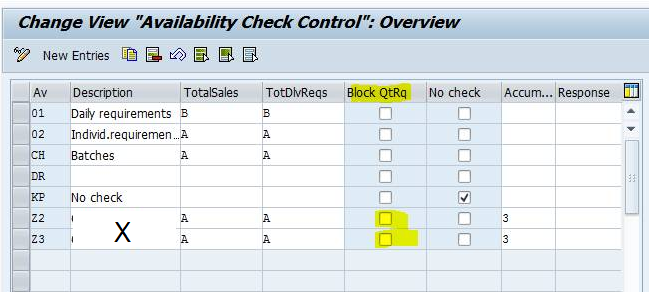 If you look at the configuration screen it seems like such a simple little check box.  But there is always to much confusion that goes along with it.  Just to be thorough, here's what SAP says about this field: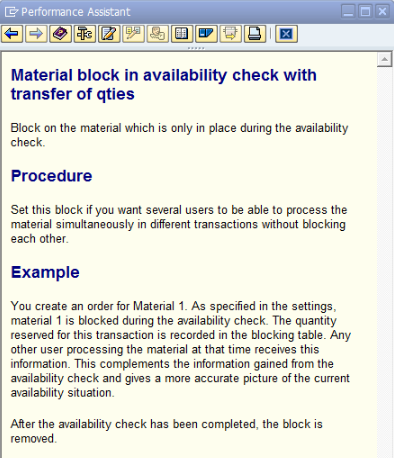 Both of these methods work and are acceptable.  What you need to determine is the business risk of "possible" availability snafus.  By that I mean, you could try to configure 2 similar items at the same time.  Both will see available stock and capacity, but for example, let's say one major component has 1 item left in stock, and it is 2 weeks before more stock arrives.  If you don't lock the material, then you could run into the case where both configurations attempt to consume the part, and both will give you a promise date of Friday.  When in reality, one could be done on Friday, the other will take 3 weeks.  Now you may have to go back to your customer and explain that you can't deliver on Friday.  In some industries, this is no big deal because they have additional lead times built in or 98% of the time have plenty of inventory to turn these types of items around, in other industries, if the inventory situation isn't strong enough, or the lead times aren't adequate this could lead to unhappy customers.
Everyone asks, what should I set the Block QtRq to?  I always have to apologize and explain I can't answer the question because it all depends on your customers and your business processes.  There is risk in unlocking the material, but only your business organization can determine if the risk is worth the reward.
Hope this makes senses and thanks for reading,