How about another simple tidbit on service order.  Using the Service order List.  You can use IW72 or IW73 (if you only want to display).  Now if you notice this screen has a LOT of options.  It gives you an incredible amount of control allowing you see only what you need to see.  The top portion lets you limit if it's Outstanding, In Process, or Completed (TECO).  In addition, you can control by dates, numbers, customers, etc…  This is highly valuable when you have a lot of notifications and multiple people processing them.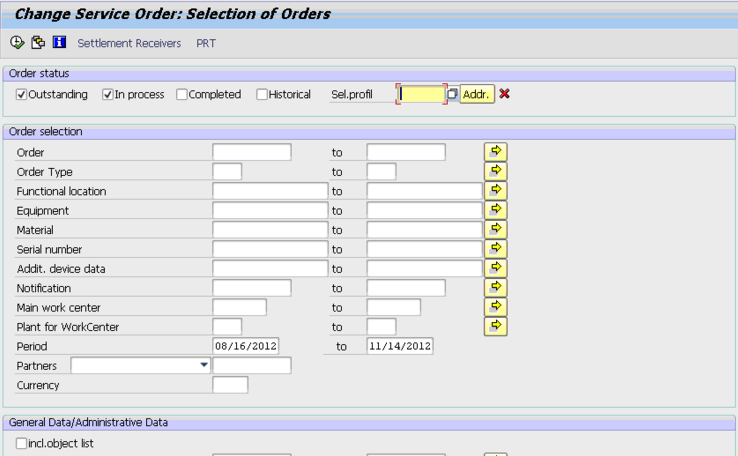 Once you have all your selections in, I encourage you to save it as a variant.  No sense in reinventing the wheel.
Next up, press execute and let's see the results.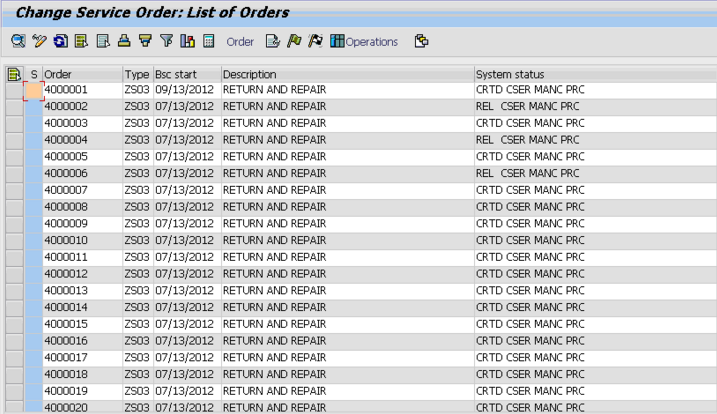 Now, by default there are always set fields that will be displayed.  If you're not aware, there is a huge catalog of fields that you can display.  Priority, start and end dates, status, etc…  Pretty much anything you want to know about about the service order aside from long text.  Just press the variant button, add the fields you want, you can even save sums and sorts.  Maybe I'll do a reporting post to show you the fun parts of ALV in the future.
Now, on top of all this, you can also select a group of orders to Release (green flag), TECO (checkered flag).  If you use the menu option:  Order–>completion–>complete (Business) is also an option.
For most clients, this is a great tool out of the box.  Occasionally, customers need a fancier work list, but most times, IW72/IW73 is more than sufficient.  However, if you're looking to gather true metrics, I recommend checking out our Service management Dashboard: Broadsword.
Well, it's a nice easy lesson for today…  but for no point in frying your brain today.  I'm sure you're busy thinking about Christmas shopping anyway =)
If you need some Service help, press the contact us button above and let us know how we can make your service business better,
thanks,
Mike
As always, thanks for reading and don't forget to check out our
SAP Service Management Products
at my other company JaveLLin Solutions,
Mike