One of the decisions I often see customers struggle with is when to release the service order.  So I thought I'd give you my opinion on the service order release strategy that I've seen and give you some good information to consider before you make your final judgement.
Now, the biggest dilemma I hear is do I release it automatically, or do I wait.  My answer, like any good consultant, is it depends.  The biggest factor that anyone needs to consider in this choice is, do you care when the requirements move to MRP.  What happens is when a service order is released, any planned components will show as a demand in MRP.  Well, if you're not ready to work on this order for another 2 months, in my opinion, you don't want the demand going out for the parts as soon as it's created.  Now, if you're using all of your dates correctly, and have outstanding capacity planning figured out, you can probably avoid this.  Most places I've worked at are not that sophisticated, and don't have the resources to maintain that level of planning for service.  In those instances, I encourage you NOT to release the service order automatically.  You can control that setting in the service order type configuration: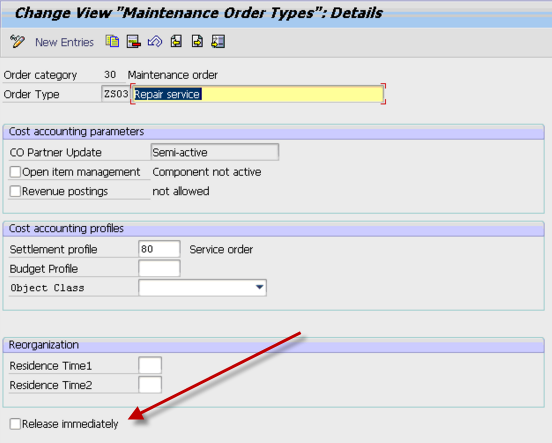 simply make sure this box is unchecked.  The other cool thing is that you can decide on an order type basis.  So perhaps for your field service or plant maintenance orders you do want them released automatically, but perhaps for your service exchange or even in-house repair orders, you want to manually control this.
As a rule of thumb, I generally set it to be NOT released immediately, unless it is for a Field Service Order Type.  This allows the service planner to review the order, set the dates properly, make sure the correct components have been called out, and decide if it should be added into the queue…  or this one should wait because there is already a backlog of more important service orders to attend to.
Using the system status, it is easy to see what is not released.  Simply look for CRTD to see the unreleased orders.  If it is REL, it has been released.
I hope you found this interesting.
As always, if you need more help in service management or variant configuration please use the contact us button above and let us know how we can help.
I'm also on the lookout for new topics to blog about.  if you have suggestions, please comment on any of my post,
Thanks for reading,
Mike