I wanted to pick up where I left off yesterday.
Finally, you need to assign the availability check to the plant/order.  And you also can change the check for creation vs. release.
As a note, if you create an order type as a copy from an existing order type, you will still need to maintain this data.
IMG->Plant Maintenance and Customer Service->Maintenance and Service Processing->Maintenance and Service Orders->Functions and Settings for Order Types->Availability Check for Material, PRT's, and Capacities->Define Inspection Control
Here are the settings you can control: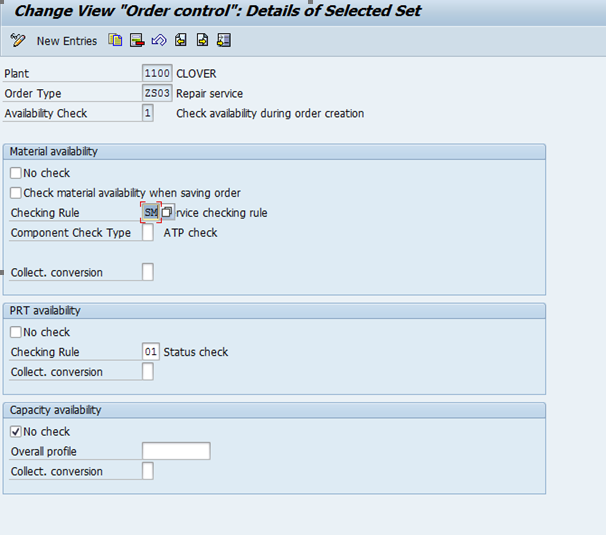 Material Availability
No Check – skip material availability checking
Check Material Availability when saving order
Checking Rule – defined above
Component Check Type – allows you to determine the type of checking to perform

ATP check – checking against every single component according to ATP logic
Check against planned ind requirements

Conversion – Controls whether a planned order can be converted to a production order if one or more material components are not available. This key only relates to the collective conversion and partial conversion planned orders.

PRT Availability
No check – skip PRT availability checking
Checking Rule – same as above
Conversion – same as above
Capacity availability
No check – skip capacity checking
Overall profile – The profile is evaluated when the No check indicator has not been set. If you do not enter a profile, the system uses profile SAPSFCG013
Conversion – same as above
OK… so now you've seen the settings.  Here's how you use it in day to day life.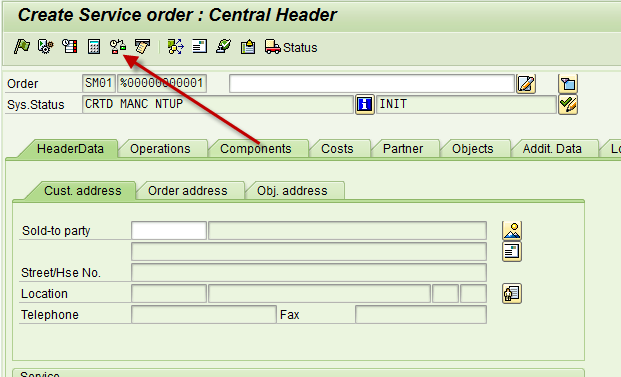 Press this button to availability.  There are several important system status that relate to availability:
MANC – Availability not checked
MSPT – Missing parts
MACM – All parts Available
If you use IW38/IW39 or Iw72/Iw73 and you look at system status, this will give you the quick look to determine if you have components available or not.  Please note, this doesn't do a hard allocation of the components.  it simply says, based on the availability check (see above) that it is in stock.
I hope this little overview gives you an understanding why availability could be an important piece of service that you've overlooked.
Now, if you'd like to take this to the next level, Proximity gives you the ability to run this availability in mass for all your orders, so you can instantly see the most up to date status.
Thanks for reading,
As always, thanks for reading and don't forget to check out our
SAP Service Management Products
at my other company JaveLLin Solutions,
Mike