Now, I'm probably a geek, but this idea got me excited when I first came up with it, and now that it's reality, I couldn't wait to show it everyone.  This all ties back to the multiple serial number concept I've talked about about before.  the idea is that a customer calls and want to calibrate 4 widgets.  In the standard, out of the box Service management, you have no choice but to create 4 notifications, and either manually create the repair sales order, or make 4 separate orders.  This may fit your business model, but many clients I've worked with really wanted a single order with everything tied together.  Well, with Renovation, you can do just that.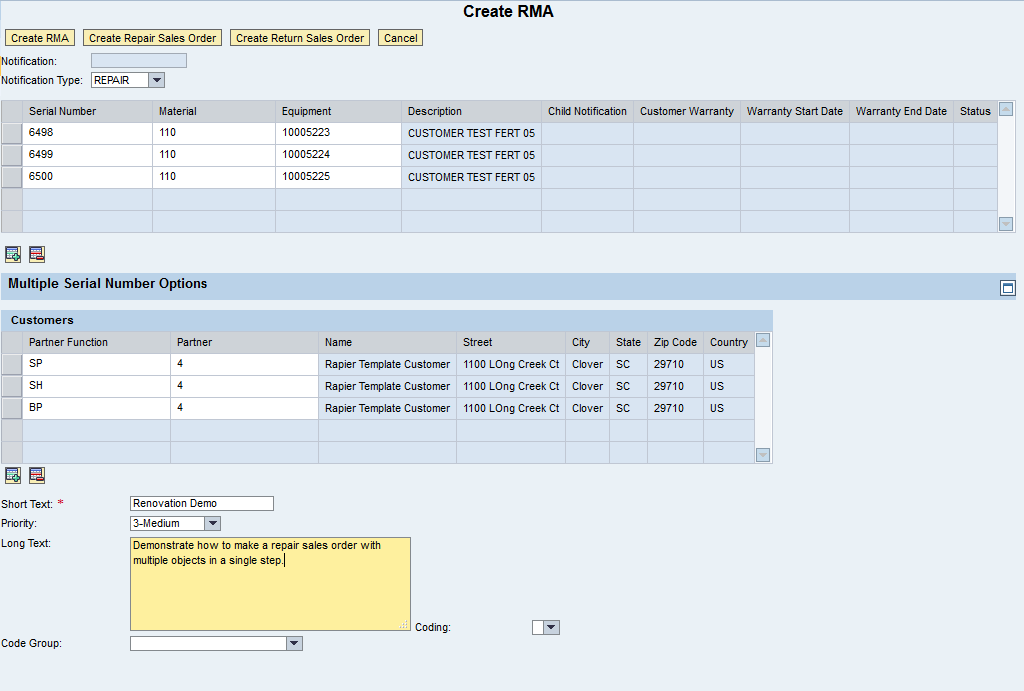 So, for this example we will create a brand new notification with multiple objects on it.
We press the button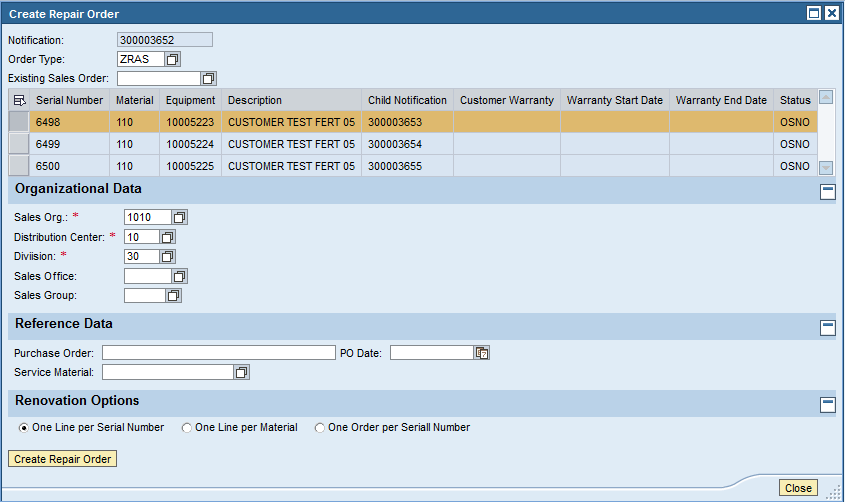 And now you see the enhanced create repair order screen.  At the top you notice that you have the option to add lines to an existing sales order (it must be configured as a repair order).  Then you can select one or multiple serial numbers to create.
On the bottom is the real magic.  Depending on your business, you can select to add one sales order line per serial number, one per material (so it will group all the similar materials into a single line/service order) or even create one repair sales order for each object.
In the background, it ties the object to the sales order, as well as any documents created at the same times (inbound delivery or service order).  This is really important if you need to keep your history up to date in the equipment record.
I'd love to hear you thoughts on this.  I'm pretty excited, but if you think of something that would be a great addition to this, I'd love to hear it, and most importantly, if you'd like to see more of this, let me know.  I haven't done the videos for this yet, because if you saw a recent post, I'm trying to make the front end more professional and I"m looking for some help to do it.
As always, Thanks for reading,
As always, thanks for reading and don't forget to check out our
SAP Service Management Products
at my other company JaveLLin Solutions,
Mike